AUDIO: Snooki's New Year's Resolutions -- Lose Weight, Drink Less & Have Babies!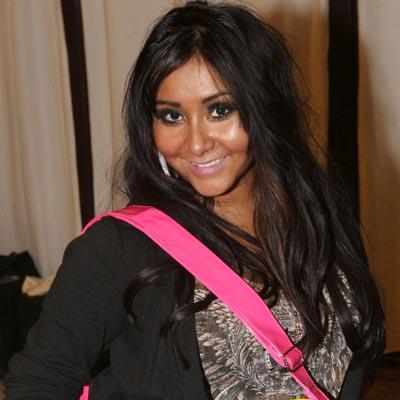 She admits she's packed on the pounds since joining the Jersey Shore cast, but now Nicole "Snooki" Polizzi is making a New Year's resolution to shed the extra weight and curb her boozing.
Listen to the audio on RadarOnline.com
The curvy firecracker is so concerned over her expanding waistline that she won't even get on the scales, but now she says she's ditched her sugary cocktails and junk food in favor of exercise and salads, and she isn't happy about it.
Article continues below advertisement
"It sucks," she told Ryan Seacrest in a radio interview on KIIS-FM on Thursday. "I can hardly drink and if I do drink it has to be vodka seltzers and I can only have, like two.
"And I have to eat lots of salad and fruit and stuff like that. I normally drink Long Islands and thats why I got so frickin large."
When asked how much she currently weighs, the vocal reality TV star said she had no clue.
EXCLUSIVE VIDEO: Snooki Admits To Ellen DeGeneres She Blacks Out Once A Month
"I honestly don't even know. I'm scared to go on the scale. But I want to go back to being 95 pounds. I was ripped. That was three years ago.
"I've been working out. I've been trying too. I've got some muscles. I got a trainer and I've been training with him for about a month now. I think my New Years resolution is definitely to keep up with the training.
"He makes me do a lot of weights and jumping jacks. Those are hard. I use the ball a lot and 30 minutes of cardio."
Article continues below advertisement
Snooki's desire to get in shape might also have something to do with her Italian boyfriend, Jionni LaValle.
She admitted to being a 'little bit' in love but more shockingly revealed her big hopes for their future.
"Do you want to marry him?" Seacrest asked.
"Hopefully, yes."
And when his co-host, Ellen K asked about having children with him, she said: "Oh my god I can't wait to have guido babies. You have no idea."