AUDIO; 'Boring' Bachelor Brad Womack Insists There Was 'No Loving' On Overnight Dates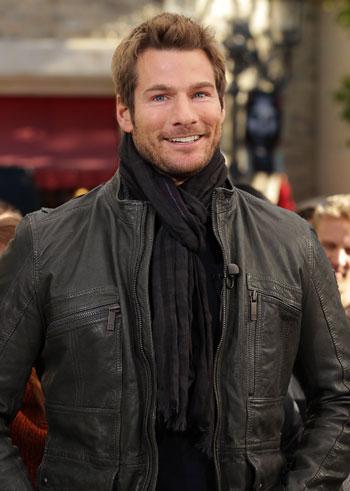 It's a tough job but somebody has to do it.
Bachelor Brad Womack struck out on his first appearance on the hit ABC show The Bachelor, leaving the show without handing out the much coveted final red rose, but this time around he's been making up for lost time, having already made out with around 'six to eight' girls – albeit against his wishes, he claims.
AUDIO: 'Boring' Brad Womack Spills On His Latest Bachelor Stint
Article continues below advertisement
The 37-year-old Atlanta born entrepreneur claims he locked lips with all those women purely for the sake of the cameras and that he knew that he had found the girl of his dreams on the very first show.
Brad called into the Valentine in the Morning Show today and dished on his controversial return to the show, and how this time around he has found true love, but he's keeping mum on the identity of the lucky girl.
Calling himself 'the most boring Bachelor ever' Brad claims that the only reason we get to see him smooching with other contestants is because he was following 'show protocol'.
He goes on to insist that on his overnight sleepover dates there was 'no loving' and that he instead used the time to 'talk and have very intimate conversations about what we really think is real throughout all of this.'
But the show's producers are keeping the viewers in suspense and despite Brad's claims of strictly non-X-rated sleepovers, he does admit to 'a lot of superficial romance' - all for the sake of ratings, of course.
Article continues below advertisement
Brad says that he has learned from his past mistakes, and shared some seasoned advice for future contestants: 'Be yourself for better or for worse... Be yourself and I think it can work out.'
Brad first appeared on the show's 11th season, which aired September to November 2007 and was the first bachelor in the show's history to reject all of the bachelorettes.
After it was announced Brad would be making a return to the show this season he insisted he was a 'changed man' and that during his time between appearances he underwent 'therapy and a lot of soul searching'.
This, he explains, helped him realize that he is a commitment-phobe, going on to claim: "I'm a different guy, I want to come back and prove I believe in this process. I want to prove to everyone I'm a different man. I can and want to do this."
Brad Tells Ellen He Could 'Walk Away' Again
And what makes Brad a thoroughly different guy this time round?
"I'm just much more open," he says. "I have answered any questions thrown at me, for better or for worse and the women have really gotten to know me and vice versa".