Brad Womack Returning As The Bachelor; Tells Ellen He Could 'Walk Away' Again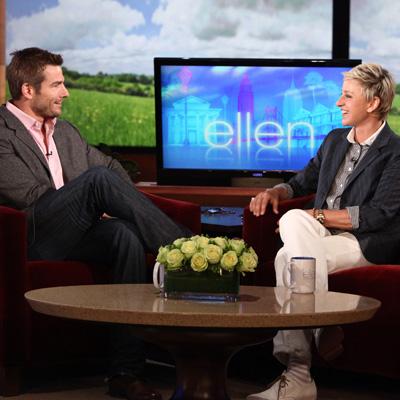 It's true - Brad Womack really is getting a second shot at love.
The Texas-bred hunk was officially named the new Bachelor during Monday night's Dancing With the Stars on ABC.
"Brad, this time, pick somebody!" DWTS host Tom Bergeron quipped to Womack, who was sitting in the audience of the popular ballroom show.
Womack, 37, appeared on The Bachelor's 11th season back in 2007. At the final rose ceremony, he stunned viewers by choosing neither of the two remaining women - DeAnna Pappas and Jenni Croft.
Article continues below advertisement
Womack will appear on The Ellen DeGeneres Show on Tuesday for his first sit-down interview to talk about why he decided to return as The Bachelor.
In transcripts released by Ellen, DeGeneres asks Womack what fans want to know.
Ellen: First of all let's just talk about that fact that you didn't pick anyone. Would you admit now that you had commitment issues? It was you not them maybe it was you?
Brad: Absolutely, let's says this as adamantly as I defended myself it really tough to have 13/14 million Americans call you a jerk. So I spent a year or two maybe three defending myself adamantly. To answer your question, yes, I definitely have or had commitment issues. More importantly that process is difficult. I thought that I was as open as I was supposed to be and clearly I wasn't. I walked away and wound up all alone and left two girls standing there.
Ellen: What made you want to do this again? Because it is a difficult process and you could go through the same thing and get to the end... then I'll really call you a jerk if that happens.
Brad: I'll tell you why I'm here again because I believe it can work. I don't care if people call me an idiot or don't believe those words coming out of my mouth. I truly believe that it can work. So here are 25-30 women that I never ever would meet in regular life, and I'm clearly doing something wrong. I'm still single. So why I not, I really do believe that this can work.
Article continues below advertisement
Ellen: Let's just say you go through this whole process and you don't have those strong feelings then your going to feel like almost you should go ahead and propose to someone just because you don't want to look like that guy again. You put your self in a situation, or would you walk away if you really feel like you can't commit?
Brad: I would walk away
Ellen: Again?
Brad: Absolutely. Again, I take this very seriously. I know it tough to believe it's a television show but...I am a completely different person. I don't want to visit that thought...
The Ellen DeGeneres Show airs in syndication across the country. Check your local listings for channel and time.