Zac Efron And Vanessa Hudgens Split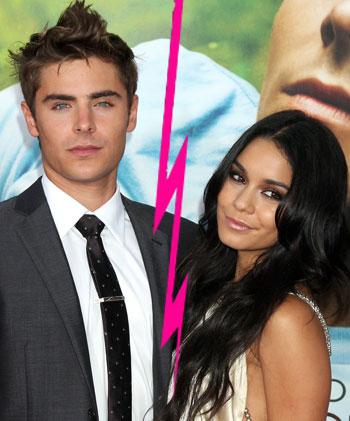 High School Musical sweethearts Zac Efron and Vanessa Hudgens have split up, according to a new report.
The couple have ended their romance after more than three-years together, but no one else was involved, reports UsMagazine.com.
"It was mutual," a source confirmed to the magazine.
"They have been together for so long. It just ran it's course. They are still talking and still friends. There's no drama. No one cheated. They just grew up."
Article continues below advertisement
Efron, 23 and Hudgens, 21, began dating in 2006 and have openly spoken about their instant attraction to each other.
"Right off the bat, we had a connection," Hudgens told Glamour magazine in June, while Efron branded it "love at first sight."
The break up comes just two weeks after they were pictured kissing in Waikiki, Hawaii, during a vacation together.
Neither rep was available for comment.
RELATED STORIES: