VIDEO: Playboy's Resurgence Begins With Kickoff Of Playboy Club Macao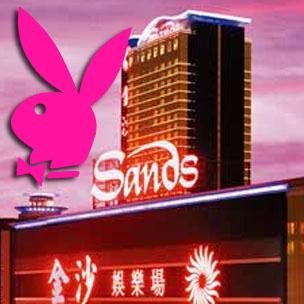 Playboy rolled out the red carpet in its' recent opening of the 12,000-sq.-ft. Playboy Club Macao at Asia's Sands Macao casino, and RadarOnline.com has all the scoop for you from the iconic company's kickoff soiree in the former Portuguese colony, now one of the world's foremost gambling hubs.
Watch the video on RadarOnline.com
The club's kick-off furthers the company's growing presence in the Asian market, which according to manager Reggie Martin, "is very different from the U.S. market."
Article continues below advertisement
"It won't be as crazy as Las Vegas," Martin said. "More chill. Las Vegas has a lot of college-aged people while Macao has more of a mature crowd. It also draws more of a local crowd than a tourist crowd."
Scott Flanders, CEO of Playboy Enterprises, said he could see the clubs -- a venerated chapter of the company's past -- as a big part of the company's future, after absorbing the ambiance of the Las Vegas club, which opened four years ago.
"It was all ages, all races," Flanders told Time. "Lots of women. It was a beautiful, hip crowd. It informed my thinking about where we're taking this company, which is away from dependence upon the media properties."
The club is a leg of a bigger stake the brand is taking abroad, as other Playboy clubs are slated to open in Cancun, Mexico later this year; a club in London in early 2011 and a 30,000-sq.-ft. Playboy Mansion, also in Macau, slated to open in 2012. according to Playboy officials, the club is looking to have 20 clubs erected by 2016.