VIDEO INTERVIEW: Raz B - 'I Forgive Chris Brown'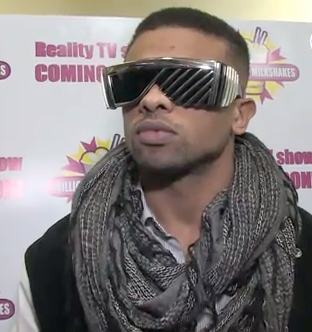 Raz B spoke out publicly Thursday on the nasty Twitter war he's having with controversial singer Chris Brown, and the former B2K singer said "it was a little too much."
Raz B was at West Hollywood's Millions of Milkshakes when he discussed the feud exclusively with Hollywood.TV. You can watch the interview here on RadarOnline.com.
"Things got a little out of hand and I forgive Chris and I hope everyone forgives me," Raz B said. "It was a little too much."
Article continues below advertisement
The madness all began when Raz B tweeted, using the Twitter handles for, respectively, Eric Benet, Brown, Halle Berry and Rihanna, "I'm just sittin here Thinking how can n—-s like @ebenet & @ChrisBrown disrespect women as Intelligent as @HalleBerry11 and @Rihanna."
Brown immediately fired off shots of his own, tweeting, "@razb2k, n—-you want attention! Grow up n—-!!! D— in da booty a– lil boy," and followed up with several tweets taunting the singer over his accusations that he was molested by his ex-manager and one of his former group mates.
Brown has since apologized for his comments and says he's not homophobic.
As for Raz B, he's hoping Brown will no longer make statements that could potentially upset abused children.
"I don't think Chris was apologizing to me," Raz B said. "I believe Chris was apologizing to the people that he offended. Can't talk about abused people around the world."
RELATED STORIES: