VIDEO: Eminem, Lady Gaga, Justin Bieber Among Grammy Nominees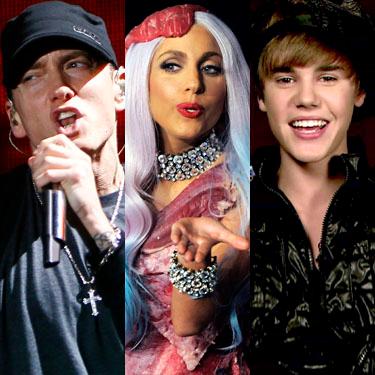 The nominees for the 2011 Grammy Awards were announced in a CBS telecast at Los Angeles' Club Nokia Wednesday night, with Eminem, Lady Gaga and first-timer Justin Bieber all receiving nods.
Watch the video on RadarOnline.com
Eminem topped the slate with ten nominations, including his smash hit with Rihanna, Love the Way You Lie, which garnered nods for song and record of the year. The Detroit-based rapper's triple-platinum comeback album, Recovery, was nominated for album of the year, as well.
Article continues below advertisement
Canadian pop sensation Justin Bieber scored one nomination -- for best new artist, where he's matched up against Drake, Florence & the Machine, Mumford & Sons and Esperanza Spaulding.
"It feels amazing -- I can't believe I'm in this position," the 16-year-old Baby singer said via satellite from London. "Thank you to the fans. I don't know what to say."
Lady Gaga, who racked up six nominations on the night, received a nod for album of the year for The Fame Monster, the second straight year in a row she's been up for the vaunted honor. Katy Perry's Teenage Dream is also up for the album of the year.
Other notable artists up for multiple awards include R&B newcomer Bruno Mars with seven nominations; rap icon Jay-Z with six; and country stars Lady Antebellum with six.
A couple of nominations that may surprise some people: Michael Jackson scored a nod for Best Male Pop Vocal Performance for This Is It. Also, the cast of Fox's hit show Glee nabbed a Grammy nomination for Don't Stop Believin' in the category of Best Performance by a Duo or Group.
The Grammy Awards air at 8/7c February 13 on CBS.
RELATED STORIES: