SHOCKING VIDEO: Model's Hair Catches Fire At Diddy Bash -- While She's In Bathtub!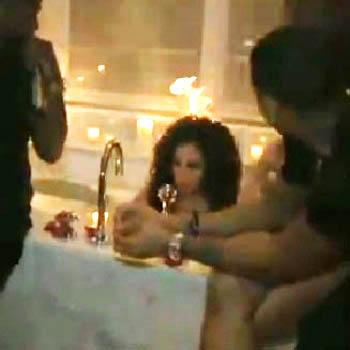 A model's hair caught fire during a swanky Manhattan bash held by Sean "Diddy" Combs at the London NYC Tuesday, to celebrate the release of the hip hop mogul's new album, Last Train to Paris.
Watch the video on RadarOnline.com (Warning: Video contains explicit language)
The incident, which was documented via Ustream, showed Diddy minion Kevin Hart emceeing the event in front of a bathtub surrounded by candles the dark-haired model was sitting in. When the model leaned back, her hair caught fire.
Article continues below advertisement
"Oh, oh, oh s***!" Hart said. "Did the camera catch that? Did the camera catch that? We put it out as quick as we could, I can honestly say."
Diddy would go on to tell party-goers, "The Fire Department just left upstairs. It's crazy, but everything is under control."
PHOTO: 50 Cent & Chelsea Handler Snapped In Bed Together!
The model was not badly injured.
Diddy had packed almost 200 people in his 2,500-square-foot penthouse, the NY Post reported, after he informed hotel management he'd only have about 20 people there. Celebs in attendance at the soiree included Usher, Fabolous, Chris Brown, Trey Songz, Miss USA Rima Fakih and Swizz Beatz.
The scene was slightly reminiscent of Michael Jackson's hair catching fire, after a pyrotechnic accident, while shooting a commercial for Pepsi in 1984.