PHOTOS: Woof! Sexy Bikini Babes & Their Dogs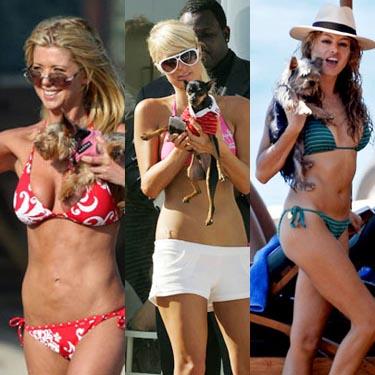 A dog is a man's best friend-and a bikini babe's! Stars love playing with their pooches almost as much as they love stripping down and showing off their hot bodies in barely-there bikinis.
RadarOnline.com has put together these photos of your favorite celebs making a splash in their sexy swimsuits with their furry companions. Check out all of them by clicking here.
Life's a beach for Charlize Theron and her entourage of animals. The flawlessly figured Academy Award winning bikini babe stays in tip-top shape playing ball with her canines who come in all shapes and sizes.
Article continues below advertisement
Gisele Bundchen's little teacup Yorkie is one lucky pedigree! The adorable pooch gets to jet set around the around in the statuesque supermodels arms, hitting all the hottest beaches from Malibu to Rio. See Gisele and her furry friend.
Bikini bad girl Tara Reid heads to the beach double fisted-with her pooch in one hand and a ball in the other. See Tara and her Yorkie.
How does a bikini babe like Elisabetta Canalis keep all the bad boys away? By enlisting the help of a mean looking Doberman! See Clooney's gal pal and her Pinscher pup here.