PHOTOS: Bikinis! The Sexiest Celeb Groupies Strip Down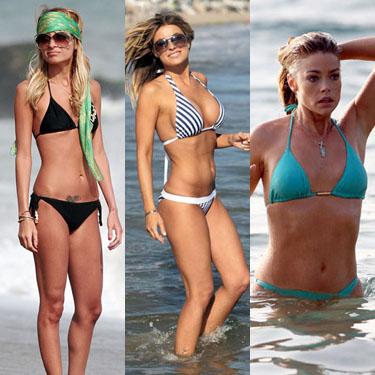 Like Kate Hudson's character in Almost Famous, these hot-bodied bikini babes are with the band. Instead of scoring backstage passes from their agents and managers, they are smart enough to go straight to the source-pairing up with the hottest rockers and rappers in the biz.
RadarOnline.com is bringing you photos of Hollywood's hottest stars-stripped down and sexy in their barely there bikinis-who have made sweet music with Billboard chart-topping hunks.
Article continues below advertisement
Ashley Greene became an overnight star when Twilight hit theaters in 2008. The smokin' hot bikini babe kept a relatively low profile in regards to her romantic life, until she got bitten by the Love Bug, making sweet music with a certain hunky Disney rock star. Click here see Ashley's fab bikini bod and find out who she has been touring the world with.
These bikini babes have romantic lives straight out of an episode of Melrose Place, which one of them ironically starred in! Heather Locklear was married to a Bon Jovi rocker for several years. Soon after the two split, one of her best friends, Denise Richards-swooped in. Heather went on to find romance with David Spade -- and then her former Melrose Place costar Jack Wagner, while Denise has been recently spotted out with Motley Crue bassist Nikki Sixx. Now that's what we call rock n' roll! See Heather making a splash in sexy style here and Denise here.
Amber Rose and Nicole 'Coco' Austin both have dangerous curves, from their boobiful top halves to their bootylicious bottoms-but that's not all they have in common! The two bombshells also have a thing for rappers. See Coco making waves here and Amber here.
And Jessica Biel and Cameron Diaz are bigscreen babes who been 'N Sync with a certain ex-Mickey Mouse Club stud-and both hard-bodied bikini bodies definitely have brought SexyBack. See Cameron's SoCal bikini bod here and Jessica's here.