PHOTOS: Bikini Wars! Hollywood's Hottest Cougars Vs. Cubs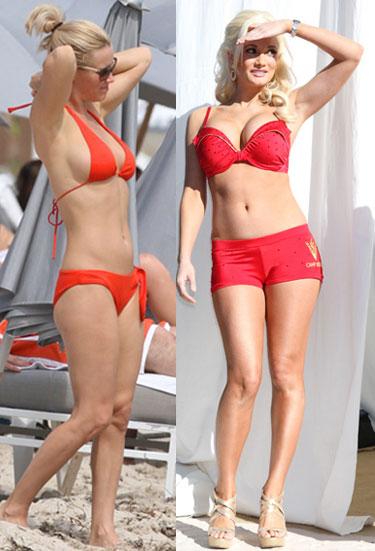 It's a Bikini Wars "survival of the fittest" when Hollywood's hottest cougars take on its' sexiest cubs!
Let's face it: whether they love sinking their claws into men several years their junior, a la Demi Moore, Jennifer Aniston, Courteney Cox and Halle Berry, or cuddling up to older guys like Megan Fox, Scarlett Johansson and Taylor Swift -- these stars are smokin' hot.
But when it comes time to strip down into their skimpy swimsuits, only the sexiest star can be queen of the jungle, and you can only find out who reigns on RadarOnline.com!
Article continues below advertisement
Jennifer Aniston has one of the most bangin' bods in Hollywood.
The former Friend eats right and sweats hard to keep her figure fat-free and fabulous, so she can pounce on sexy men several years her junior! The sexy bikini babe made sweet music with John Mayer, who was nine-years younger than her.
Mayer went on to reportedly break the heart of Billboard babe Taylor Swift, who was 13-years younger than him!
Although neither of these hot-bodied stars ended up in Mayer's arms, one of them will score the Bikini Wars title. Find out if Cougar Aniston or Cub Swift wins the Bikini Wars title here.
Cougar Town is where it's at for Courteney Cox!
Not only does the brunette babe star on the hit show, but she is also a real life cougar.
Megan Fox is another dark and sexy bikini babe, but it is older guys who make the big-lipped bombshell purr. Megan's hubby Brian Austin Green is 12-years older than her!
Article continues below advertisement
Who brings more heat to the beach, the cougar or the cub? Find out if Megan or Courteney brings more heat to the beach here.
And while Demi Moore is one of the most notorious cougars on the planet, married to Ashton Kutcher, who is fifteen years her junior, Scarlett Johansson is technically still married to Ryan Reynolds, who is eight years her senior.
And they say Hogan Knows Best, but do we agree? The Hulk divorced his wife of several years, Linda, and found a much younger love connection with Jennifer McDaniel.
Linda is now engaged to one of their daughter's pals, who is 29-years younger than her!
Which of Hulk's hotties brings more sexy to the beach. Find out who wins when Linda Hogan takes on Jennifer McDaniel here.
Find out who dominates in RadarOnline.com's special Bikini Wars feature!