PHOTOS: Angie & Brad Take The Twins Out In NYC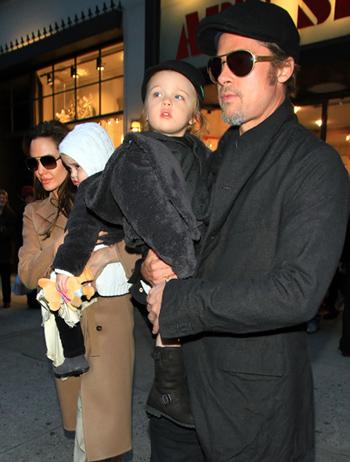 Angelina Jolie and Brad Pitt gave Knox and Vivienne a taste of what it's like being the world's most famous toddler twins during an outing in New York City Saturday.
Seemingly fascinated by the fuss around them, the two-year-old fraternal twins were wide-eyed as they explored Lee's Art Shop in Manhattan with mom and dad.
The "department store for the artist," as it calls itself, Lee's is a favorite of Angelina's. She's previously been there with all four of her older kids, and she's bought gifts for Brad there as well.
Article continues below advertisement
The family is just back from Paris where she was promoting her new film The Tourist and they both walked the red carpet for the French premiere of his animated blockbuster Megamind 3D.
RELATED STORIES:
Brad Visits Angelina On The Set Of Her New Movie In Budapest