Injured Broadway Actor Christopher Tierney Walks Again!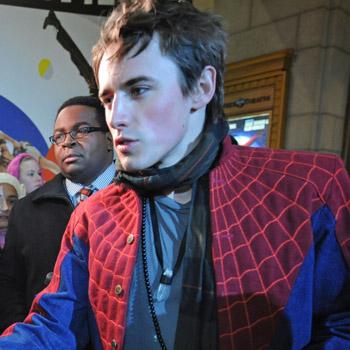 Some might call it a Christmas miracle. Christopher Tierney was back up on his feet, just five days after taking a 30-ft fall during a production of Spider-Man: Turn Off the Dark.
The stunt actor is still in his hospital's Intensive Care Unit but his father Tim Tierney says Christopher is anxious to return to the role despite injuries that had some worried he'd spend the rest of his life in a wheelchair.
Article continues below advertisement
Spider-Man: Turn Off The Dark was still in previews when the 31-year-old Tierney, despite wearing a safety harness, fell into the stage orchestra pit.
Christopher walked for the first time since his fall on Friday, following back surgery, and spent Christmas with his mother and brother at the hospital, Tim Tierney, told The Associated Press.
Spider-Man: Turn Off the Dark, with music by Bono and The Edge, is being mounted with a stunning $65 million price tags. But the money being spent hasn't prevented three previous injuries and an opening night that's been delayed a month..
Christopher "just felt so blessed to be part of this whole creative process, and he just cannot wait to get back and perform in the show," his father told AP.
HOLIDAY PLANS: What Your Favorite On-Screen Stars Are Doing For The Holidays
Christopher's injuries include four broken ribs, a hairline skull fracture, cracks in three vertebrae and internal bleeding.
He is expected to remain in the ICU until at least Monday. Then the hard work of rehabilitation will begin.