EXCLUSIVE: Scarlett Johansson & Ryan Reynolds' Final Vacation -- The Beginning Of The End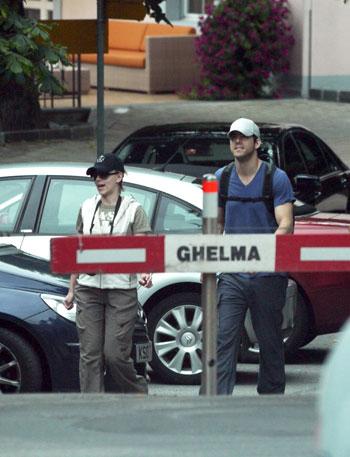 It was a vacation that seemed innocuous at the time, but for Scarlett Johansson and Ryan Reynolds it was the beginning of the end of their marriage.
Scarlett, 26, and Ryan, 34, announced their split on Tuesday, surprising fans who saw no sign of trouble between the glamorous duo.
But in late August, on a trip to Switzerland, the passionless couple seemed more like brother and sister than husband and wife as photos of the trip show.
Article continues below advertisement
There was no kissing, no hugging, no arm-around-the-shoulder, no public displays of affections that would seem perfectly appropriate for a couple married fewer than two years.
They hiked through the Swiss Alps with Scarlett snapping photographs. They rarely held hands and while they didn't argue in public there seemed to be no passion between them, according to onlookers.
On Tuesday they released this statement: "After long and careful consideration on both our parts, we've decided to end our marriage. We entered our relationship with love and it's with love and kindness we leave it. While privacy isn't expected, it's certainly appreciated."
The "long and careful consideration" extended back to their summer trip, which occurred shortly before their two-year anniversary. And while they spent Thanksgiving together there was also much time spent apart in the marriage's final days.