Exclusive
EXCLUSIVE PHOTOS: Tiger Woods' Mistress Jaimee Grubbs Back To Serving Drinks To Stars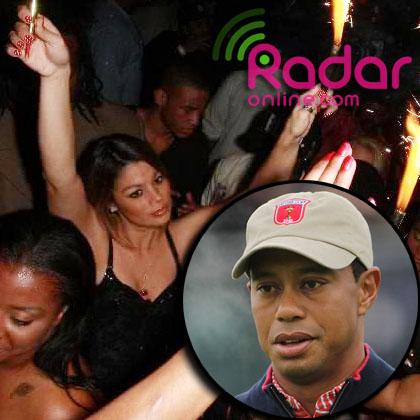 In the year since Tiger Woods' cheating scandal broke, the golfer's life has changed radically, but for his mistress Jaimee Grubbs her '15 minutes of fame' have expired, and it's back to serving drinks to celebrities.
RadarOnline.com obtained exclusive photos of Grubbs in Hollywood serving alcohol at a celebrity party recently, as if her whirlwind media tour and dreams of grandeur never happened! Grubbs previously released a voice mail Tiger left her after his wife Elin found out about his secret life.
Article continues below advertisement
Grubbs moved from her native San Diego, where she was a cocktail waitress, to Los Angeles shortly after revealing her two-and-a-half-year relationship with Woods, and according to an eyewitness, she's moonlighting as a 'club girl' at Hollywood's Playhouse nightclub.
"I was there for singer Pleasure P's birthday party on Sunday night and when they were bringing out the cake and stuff, there was Jaimee waving the sparklers carrying a bottle of tequila," a source told RadarOnline.com.
"She looked good, but it's just kind of weird to see Tiger's mistress bringing birthday cake and booze out for a club-goers birthday."
As RadarOnline.com previously reported, Grubbs released numerous text messages between her and the shamed golfer as well as a voicemail he left after his wife Elin found out about his transgressions.
"Hey, it's Tiger. I need you to do me a huge favor. Can you please take your name off your phone? My wife went through my phone and may be calling you," Woods said in the voicemail.