EXCLUSIVE PHOTOS & INTERVIEW: Pauly D's DJ Gig 'Crashed By Out-Of-Control Underage Drinkers'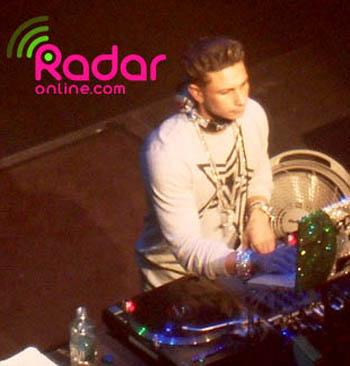 Jersey Shore's Pauly D got a little more than he bargained for while DJ-ing an event at Manhattan's Terminal 5 Friday night. The Jersey Shore star's gig was "crashed by a group of out-of-control underage drinkers," RadarOnline.com has learned from an eyewitness.
Pauly D. Spins at Terminal 5 Night Club in New York City
Veronica Ruggiero was at Friday night's event and gave RadarOnline.com an exclusive inside look at the madness.
Article continues below advertisement
"I saw underage kids who were clearly drunk," Ruggiero says. "They couldn't have been no more then 16 years of age. They showed up drunk and were causing a lot of problems both inside and outside the venue.
I was in shock and I think Pauly D was too."
"Random guys were punching people. It was really weird. Girls started throwing their bras at Pauly D and people were throwing water bottles. It was a circus. Ambulances were even called!"
As RadarOnline.com's exclusive pictures show, the nightclub was also jammed packed, with Pauly D fans literally hanging from the rafters and nearly spilling over a balcony.
"Pauly D rubbed it off when he saw the fights break out. It was probably better that he acted like that," Veronica adds, telling RadarOnline.com that underage fans were allowed in the nightspot but were not served at the bar. They just arrived drunk!
Article continues below advertisement
While Pauly D's event at Terminal 5 was open to all ages, an employee insists no underage drinkers were allowed inside.
"Many underage drinkers did show up to see Pauly D and hear him mix," a Terminal 5 employee tells us. "Two very little scuffles happened and that was it. Two guys who looked underage were going at it and we put them out. We even called the ambulance to come to get these underage kids off our property. We definitely don't believe in or encourage underage drinking and that behavior was not allowed inside our venue last night."