Exclusive
EXCLUSIVE INTERVIEW: Michelle Duggar On Josie's 1st Birthday -- 'She's A Chunky Little Peanut'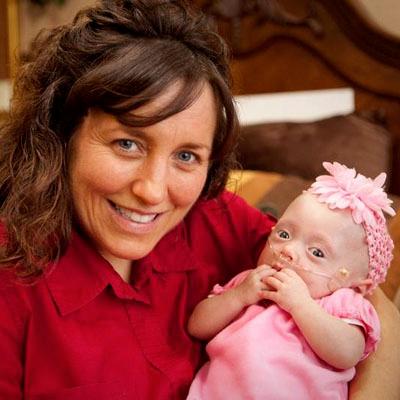 Little Josie Duggar -- the miracle baby and star of TLC's 19 Kids and Counting -- is celebrating her first birthday Friday and her mother Michelle tells RadarOnline.com all about the milestone!
"We are just so excited and we're so grateful to God to have her," the reality television mom said, in an exclusive interview.
"Reaching this landmark occasion her first birthday, I look back at the pictures and the video footage from the beginning to now and it an incredible journey."
Article continues below advertisement
Michelle, the mother to all 19 children, said Josie Brooklyn now weighs a healthy 15 pounds 12 ounces, and is wearing baby clothes for a six month old.
The "littlest little" as Josie is called on 19 Kids and Counting is like a "chunky little peanut," her mom said.
She said, "You know that song I'm a little teapot short and stout? Well that could be her little song! She is definitely short and plump now, she's got all these little rolls, it is so cute."
Dad Jim Bob and the older Duggar kids are on a mission in Hondorus and El Salvador, Guatemala; they won't return until December 15, which has delayed a big party for their much loved baby.
Said Michelle: "We'll have ice cream and Grandma and Amy and everyone else will come out to the house and celebrate. She has a little balloon that says 'Happy Birthday Josie'."
Josie is becoming quite the chatterbox, Michelle revealed.
Article continues below advertisement
"She can say 'Dada,' and she says 'Hi' and she waves hi when you say it to her now," she said.
"She's learning. We've heard her say 'Mama' three times and every time that she's done it I've run and I get my phone and I try to get her to say it again but she won't say it again.
"She claps her hands and she has her favorite book called the Ticklish book. That book will make her start jumping, squirming, kicking. She gets the biggest grin.
"She is rolling all over the place. She's not crawling yet. She spots something she wants and she just rolls over to it. It's so cute a cute little roll to get to it. She can sit up and we leave her up for a while. Then she plops over."
Michelle also reflected on the tough times the parents had when Josie was born, despite their previous experience.
"The touch-and-go of not knowing if she would live and the reality that when she had her bowel perforated on day eight the reality of the fact that she might not make it was so real that I think we took it one minute, one second, one day at a time," she said.
Article continues below advertisement
"We thanked God. It put it all in perspective. You can't determine the outcome in a situation like that. You just thank God for the moments you had with them. We took a lot of pictures and just tried to cherish every minute that we had her with us."
Both Michelle and Jim Bob have previously told RadarOnline.com they would welcome more children, but there isn't a little sibling on the way -- for now.
"We would just absolutely love that, but we're not right now," Michelle said.
"I don't ever feel bad when anybody asks me that question because our hearts are still the same in that regard as far as valuing life and cherishing life. We would be so grateful to God if he saw fit to bless us with another gift. At this time that hasn't happened.
"I am 44 going on 45 in September next year, and I'm thinking I'm not a spring chicken anymore and I know that could be a factor in all of that."