EXCLUSIVE INTERVIEW: From Drag Queen to Goat Farmer -- A Fabulous Beekman Boys Christmas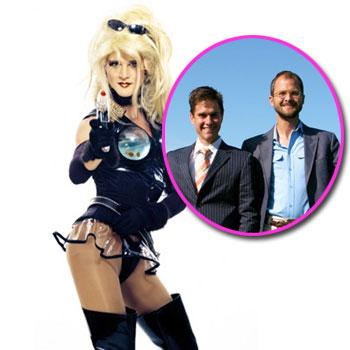 Several years ago, a fabulously gay couple of New York city slickers - Josh Kilmer-Purcell and Dr. Brent Ridge - took a huge leap, transplanted themselves upstate and became farmers/TV reality stars.
The Fabulous Beekman Boys are now staring in their very own Christmas special, and spoke exclusively to RadarOnline.com about their amazing journey.
"Every gay boy in America wants his own Christmas special so this is a dream come true!" Josh exclusively told RadarOnline.com.
Article continues below advertisement
"We've created an old time holiday special with baking, crafting and even locals singing carols."
EXCLUSIVE VIDEO INTERVIEWS: Gay Parade Revelers Reveal Hollywood Stars They'd Like "Gay For A Day"
Brent is a physician who specialized in the field of aging and led the development of the Martha Stewart Center for Living at Mount Sinai.
Josh is a successful author of a New York times best seller I Am Not Myself These Days: A Memoir, a tragicomic account of his early days in New York City, living as an advertising art director by day and a drag queen by night.
But these two professionals purchased their holiday dream home with no plans to become farmers – or reality stars.
"Yes, it's true I am a drag queen turned goat farmer," explained Josh with a laugh.
Sarah Palin's Dad Fires Back At Martha Stewart
The couple was driving through the area and fell upon their spectacular dream home. They thought it was a museum and were thrilled to hear it was being sold for a bargain, as it was far enough away from the Big Apple. But their 'dream come true' wasn't an easy road to the top.
Article continues below advertisement
"There were definitely strange stares at first and the locals seemed a little wary."
Kristen Stewart: Martha Stewart Had A Dream About Robert Pattinson
But when a farmer showed up at their house and explained he had lost his farm and needed a place house his 80 plus goats, the pair decided to give it a try.
They have since become very close to the locals and have increased their herd to 127 goats.
"We obviously didn't know how to farm but they taught us and in turn we taught them how to market themselves.
"Two years ago, we started a Harvest Festival and last year more than 5,000 people came including Rosie O'Donnell!"
Gay Pride Celebrated In Hollywood
The Fabulous Beekman Boys are now real farmers - their home is on the cover of the December issue of Country Living Magazine.
Josh has written a national best seller about their experience entitled, The Bucolic Plague: How Two Manhattanites Became Gentlemen Farmers: An Unconventional Memoir.
They have their own reality show with guest stars Martha Stewart and Rosie O'Donnell and now a Christmas special which airs on Wednesday, December 8th at 9:00pm EST on the Discovery network's Planet Green.
RELATED STORIES: