EXCLUSIVE DETAILS: 'Depressed' Brooke Mueller Spending Nights At Sober Living House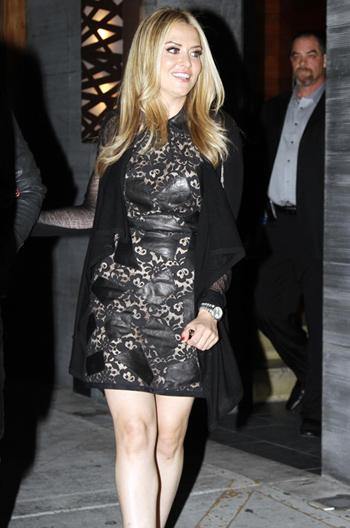 Brooke Mueller has voluntarily checked herself into a sober living facility, RadarOnline.com has confirmed.
The soon-to-be ex-Mrs. Charlie Sheen "felt weak and that she was struggling and wanted to get counseling to build up her confidence and strength again. Her sobriety is the utmost importance to her," a source tells RadarOnline.com exclusively.
Brooke is spending only nights at the facility, a family insider tells us. "Brooke is going to be spending the days with her boys. She will have a sober living companion with her. She'll go to the sober living facility at night. The hardest part for her is not tucking her boys in when they go to bed."
Article continues below advertisement
Little Bob and Max Sheen will have their grandmother to handle that job. Brooke's mother Moira Fiore is staying at her daughter's Los Angeles home and is taking care of the twins.
It's been a rough year for Brooke, who has battled addiction most of her adult life.
"Brooke has been dealing with so much. From raising her twin sons, dealing with the aftermath of her Christmas Day incident with Charlie, and then nearly dying of pneumonia several months later," the family insider says.
EXCLUSIVE: Charlie Sheen's Ex Refuses To Talk To Cop In Porn Star Probe
In recent weeks though, Brooke had been enthusiastic about the direction her life was taking. She was "clean and sober," another insider told us, and excited about the new reality show she was set to film with Paris Hilton.
The show, for the Oxygen network is built around Paris' jet set life and features her three closest friends, including Brooke. The twosome shot several scenes together in recent days.
Article continues below advertisement
But the upcoming Christmas holiday and the reality of the year she was ending began to overwhelm Brooke.
"She wants to put 2010 behind her. Brooke used to love Christmas, but because of what happened last year with Charlie, she began to get very, very depressed recently. Even though it's a year later, Brooke is still dealing with the emotional scars of it," a family insider tells us.
"The fact that Brooke recognized she was beginning a downward spiral, and wanted to stop it before it got out of control, is a very positive step for her. Brooke wants to be the best mom possible for Bob and Max. Being the best mother possible to them is what her motivation is."