EXCLUSIVE: Couple Alert! Jeremy Piven Dating Reality Television Star Jason Wahler's Ex Fiancé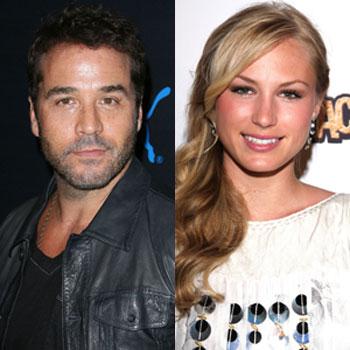 Entourage star Jeremy Piven is dating Jason Wahler's former fiancée Katja Decker Sadowski, RadarOnline.com can exclusively reveal.
Ladies-man Piven, 45, who has been linked to model Ashley Chontos, January Jones and Dita Von Teese in the past, was spotted walking hand in hand with the 22-year-old blonde beauty Katja at the Arc Light Cinema in Los Angeles on Sunday.
Law student Sadowski and Wahler called off their engagement in February, 2009, triggering a series of legal troubles for the reality television star, culminating with his decision to enter rehab.
Article continues below advertisement
VIDEO: Jeremy Piven Screams & Swears At Tonight Show Intern In Fishy Prank
One source told RadarOnline.com: "Jeremy and Katja looked really happy at the cinema – they were holding hands as they waited in line to see the movie King's Speech on Sunday night and they were kissing and cuddling one another throughout the film too.
"Jeremy was dressed like casually in jeans, a jacket and was wearing a beanie hat while Katja wore jeans, boots and a long sleeved sweater.
"After the movie they left in a Mercedes car together and they looked like they were really happy to be with one another."
VIDEO: Jeremy Piven Gives His Side Of "Sushi-Gate"
Tennis playing Sadowski appeared on a few episodes of The Hills along with Wahler and she is currently studying law at Pepperdine University in Malibu, where Piven has a beach-front home.
She previously studied at The Bolles School before attending the University of Southern California and comes from a wealthy family, RadarOnline.com has learned.
Article continues below advertisement
EXCLUSIVE VIDEO INTERVIEW: Rex Lee Speaks Out About Jeremy Piven's Mercury Poisoning
The source added: "Katja is a really smart woman who comes from a good family, so, it will be interesting to see how things will work-out between them.
"They have been spending a lot of time together recently because she is studying in Malibu and he has a home there too.
"She has been remaining tight lipped about their relationship but they both seem to be really excited about dating one another - she doesn't seem to be bothered about the age difference either."