Exclusive
EXCLUSIVE: 'Balloon Boy' Falcon Heene Forming Boy Band With Brothers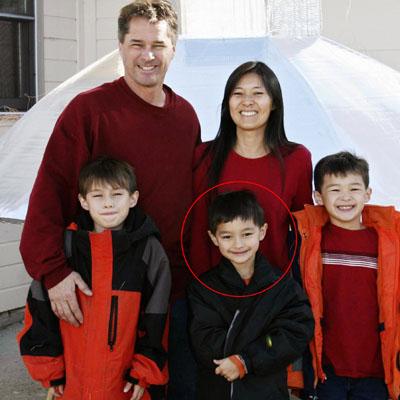 Watch-out Jonas Brothers! Richard Heene's three sons are forming a boy-band which will be fronted by the original 'balloon boy' himself Falcon Heene, RadarOnline.com can reveal.
Falcon, 7, who shot to international fame (and infamy) after it was falsely reported that he disappeared in one of his father's homemade helium balloons, is currently practicing with his two brothers Bradford and Ryo at his family's new home in Tampa, Florida.
Article continues below advertisement
And their father Richard and mother Mayumi could also appear in the band as back-up musicians, according to family friend and professional musician Smokey Miles.
Smokey, who penned the theme to Heene's recent Bear Scratcher jingle, believes the new boy band could be a hit.
He said: "They are good looking kids and talented too, so, I'm sure they could be a success.
"Richard himself plays harmonica, and his wife is a good guitar player too. They are encouraging their boys with the band but they have not come up with a name yet.
"They wanted to call themselves The Balloon Boy Band, but for legal reasons, this would not be permitted, so other names like The Bear Scratch Band are being talked about as well.
"They have asked me to help them with the band and to write a few songs, which I'm looking forward to doing for them.
"The family is doing well just now after everything they went through, and they are actually a good example for other families in these recessionary times."
Article continues below advertisement
RadarOnline.com recently revealed how Heene had started to manufacture $20.00 Bear Scratch posts and had recorded a catchy jingle to help sell them.
The controversial father of three has been trying to rebuild his life in Florida after his balloon prank created international headlines around the world.
Smokey Miles added: "Richard has sold around 100 of his Bear Scratch posts and they moved into a bigger home in Florida.
"They got a good deal because of the recession and things are looking up for them - he believes that his sons' band can become successful and that the Bear Scratchers will also sell really well too."
Heene falsely reported Falcon had floated off in a homemade helium balloon on October 15, 2009. A worldwide audience watched the bizarre incident unfold as the Mylar balloon soared 7,000 feet over eastern Colorado -- with no boy in it.
Article continues below advertisement