PHOTOS & VIDEO: Hugh Jackman Injured During Stunt On Oprah's Australian TV Special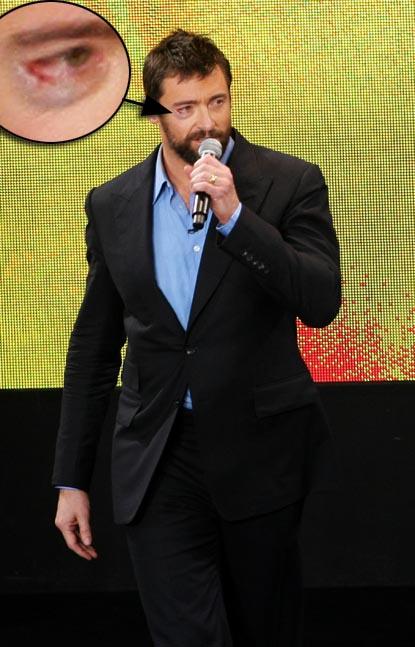 Wolverine star Hugh Jackman has been treated for a serious eye injury after a stunt went horribly wrong on the set of Oprah's television special in Australia, RadarOnline.com has learned.
Jackman zoomed toward the stage on a zip line at the Sydney Opera House but failed to slow down as he neared the landing spot.
He came to an abrupt halt when his leg struck a studio light, forcing a piece of debris into his eye.
Article continues below advertisement
A member of audience posted this photo (left) on Twitter.
With his two children watching in the audience and visibly upset, Jackman had blood from a cut above his right eye.
Winfrey rushed to Jackman's aid before he left the stage to be treated by paramedics.
"I've never been hugged by a paramedic,'' a shaken Jackman laughed before placing an icepack on his eye.
"That was so much fun until the end."
While wiping the Hollywood star's head, Oprah told Jackman in front of an audience of 6000 people: "Let's get some ice otherwise its going to swell."