AUDIO: It's Official -- Mariah Carey Expecting Twins, Says Hubby Nick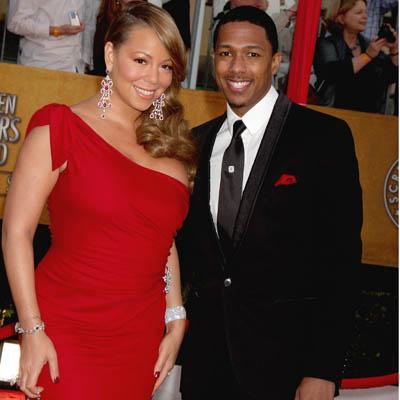 Mariah Carey and hubby Nick Cannon are indeed expecting twins, RadarOnline.com can reveal, as on Thursday, Cannon finally put the rumors to rest, telling listeners of his 92.3 Rollin' With Nick Cannon radio show, "We are having twins."
Hear the audio on RadarOnline.com
RadarOnline.com first raised speculation that the Grammy- winning singer might be expecting twins last month, when Carey had a slip of the tongue while promoting her new holiday album in an interview with Radio Disney's Ernie D.
Article continues below advertisement
"I just hope that 'they' don't turn out hating Christmas!" Mariah said, and sure enough, that one word -- "they" -- sparked rampant speculation it was a multiple pregnancy.
On his radio show Thursday, Cannon shared how President Barack Obama and First Lady Michelle Obama were among the first to know the good news. He said that while performing at TNT's Christmas in Washington 2010 last Sunday, Carey ran into the president and his wife backstage.
"They, ironically enough, questioned my wife about, you know, 'So, what are you having, are you having twins?'" Cannon said. "And at this point, she hadn't told anybody anything, because doctors advised us to keep it to ourselves until we get further along, and stuff.
"And because of the excitement, because of the emotion," Cannon said, "she was overwhelmed ... and she shared with the president and first lady that we are having twins.
Article continues below advertisement
"That's an awesome story to be able to tell," Cannon said.
The couple's been intentionally coy with the details of the pregnancy, Cannon said, after the singer suffered a miscarriage in 2008.
Cannon said it was time to go public with the good news as "we had another ultrasound last night, and everything is OK" and "both babies are in tip-top shape.
"We're very excited," Cannon said. "So there you have it.
And in an interesting comment, Cannon said he hadn't told his wife he was going to make the 'twin announcement' on his radio show Thursday.
RadarOnline.com was first to report the news this past summer that the singer was expecting.
Carey's new disc, Merry Christmas II You, is in stores now.
RELATED STORIES:
VIDEO: Mariah Carey's Dog Gets Rough Treatment From Singer's Employee