AUDIO: Bret Michaels: Donald Trump And I Are In Business Together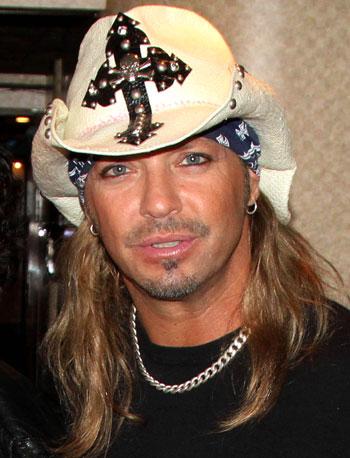 Rocker Bret Michaels said he's been approached numerous times to do Dancing With The Stars but is focused on a new project with Donald Trump and focused on getting healthy, RadarOnline.com has learned.
"Has anyone ever seen me? I am like the most rhythmless human being… the discipline it takes and the rhythm, it's probably not too high on my list," Michaels confessed to Las Vegas radio personalities Mark and Mercedes of Mix 94.1 on Friday.
Article continues below advertisement
"I'm the guy at the party who thinks he can dance but can't do it at all."
To the surprise of many, Michaels says that he sees Trump quite a bit following his appearance on NBC's Celebrity Apprentice and that the odd couple are actually working on a project together.
"We're working on a new drink. It's called Trop and Trump. TNT is going to be the name of it and a lot of the proceeds go to the ADA. We're going to kick the drink off hopefully in spring or early summer of next year," Michaels said.
Listen Bret Michaels Interview
"Donald Trump is a great guy. Very driven, very successful, but he's actually very, very funny and I think a lot of people miss that because on the show he's very intense. He has the same kind of sarcastic sense of humor that I have - funny kind of self-deprecating sense of humor."
Fellow rocker Vince Neil is a contestant on the first season of Skating With The Stars, but Michaels said that's not for him either.
Article continues below advertisement
VIDEO: Bethenny Frankel – Skating On Thin Ice?
"I just know for me, I played hockey as a kid, and I got more stitches. Me with a pair of ice skates is not…probably not the right decision, but if you can skate I say do it," Michaels joked.
On a more serious note, Michaels addressed his health after an unexpected brain hemorrhage left him fighting for his life in April.
"I honestly feel like, I'm about 80 percent of where I know I can get to and the third week in January I get the heart operation and after that I think I'm going to be feeling a billion percent better," Michaels said.
"I am so thankful to be the 20 percent of people to survive the subarachnoid hemorrhage. I am so thankful to be here. It's family and good medical attention and faith and just glad to be coming here to perform and just have a great time."
Last month Michaels' was accused of having an affair with Miley Cyrus' mother Tish, after she announced that her and husband Billy Ray Cyrus were ending their marriage, but Michaels is adamant that the reports are not true.
Article continues below advertisement
"Like I said I'm still friends with the family…Tish is still a friend. I'm not going to deny that we're friends. I'm not going to deny that I've actually hung out with Billy," Michaels said.
"They've been to a bunch of the Poison shows. I think Miley, the first show that she ever saw was a Poison show in Nashville. And I think it's a great bond and I think it's a shame that they're looking for something to blame it on, but there's absolutely no truth to it."