Zenyatta Isn't Perfect After All, 'Greatest Racehorse' Loses Breeders Cup By A Nose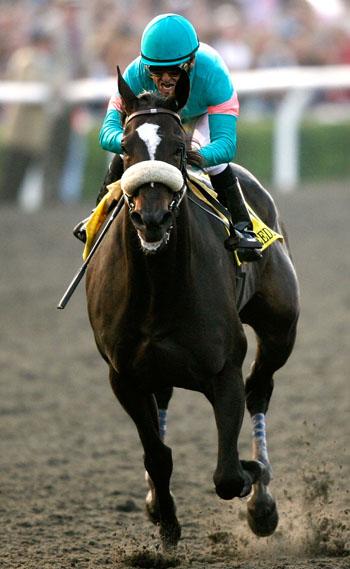 Oprah named her one of the most powerful females in America and the fashion magazine W did a spread on her.  She was heavily favored to win Saturday's Breeders Cup Classic, but Zenyatta lost by inches.
Tall, dark, beautiful and unpretentious as she sips Guinness beer, Zenyatta had never lost a race until the Breeders Cup.
"It's as if you're in a Ferrari on the freeway,"  her jockey Mike Smith said. "And everyone else just isn't."
Article continues below advertisement
Despite Saturday's emotional loss, Zenyatta is truly a rags to riches story.
Her owners, music mogul Jerry Moss and his wife Ann, purchased Zenyatta for a "mare" $60,000 at the 2005 Keeneland September Yearling Sale. She was ridiculously inexpensive because she suffered a form of ringworm. They named her for The Police album Zenyatta Mondatta. Moss had signed the group, led by Sting, to his A&M Records, which Moss owns with Herb Albert.
She was born the first day in April of 2004 but didn't begin racing until 2007 after being schooled at the Mayberry Farm in Florida.
Queen Z is no stranger to the Internet and even loves to network online. Her Facebook group has more than 30,000 Friends and she has her own Twitter account too.
She's even a YouTube sensation with countless videos, including some of her best victories, goose-stepping dance struts and beer-drinking clips (Her trainer told 60 Minutes Sunday how much she loves Guinness).