Weekend Box Office: Harry Still Casts A Spell While Burlesque Busts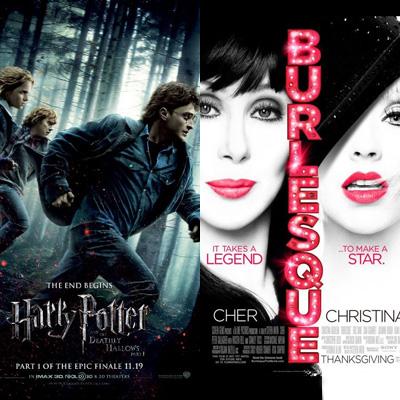 Harry Potter has cast his spell on the box office once again - much to the chagrin of those two muggles Cher and Christina Aguilera.
The latest installment in the wizardry series, Harry Potter and the Deathly Hallows: Part 1, topped the box office with $50.3 million in ticket sales over the busy Thanksgiving weekend, while the musical Burlesque limped to a fourth-place finish, taking in just $11.8 million.
Article continues below advertisement
So far, the most recent release from the Harry Potter series has drawn $220.4 million in the states and $609.6 million worldwide in the 10 days since its' release.
Animated films claimed the second and third spots, as Disney's Tangled posted excellent numbers over the weekend ($49.1 million), while Megamind continued raking in the bucks with $12.9 million.
Most surprising were the disappointing starts for a pair of the season's most anticipated, star-powered films: Burlesque, which opened to mixed reviews, has taken in only $17.2 million in five days in the theaters.
Love & Other Drugs, the romance starring Jake Gyllenhaal and Anne Hathaway, finished sixth over the weekend with a paltry $9.9 million, having taken in only $14 million since opening Wednesday.
RELATED STORIES: