VIDEO: Bristol Palin Escapes Elimination Again; Rick Fox Voted Off DWTS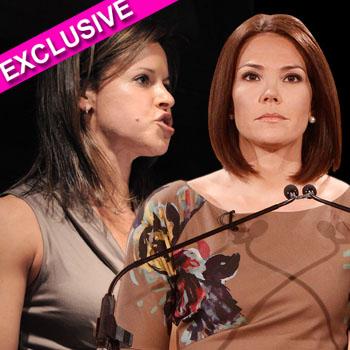 America voted on Tuesday, and it was a Republican sweep in both the polls and on ABC's Dancing with the Stars. To the surprise of many (probably mostly Democrats), dark horse Bristol Palin once again escaped elimination, and in the end, it was Rick Fox who was voted off.
Watch the video on RadarOnline.com
Despite getting his highest scores on Monday, the ex-Laker (whose pro partner was Cheryl Burke) accepted defeat with a smile.
Article continues below advertisement
It's been an amazing experience," Fox said. "We did a good job last night so, it happens. Perhaps, Fox jinxed himself when he quipped that he'd that he'd rather be on the free-throw line at Game 7 of the NBA finals than have to face the rigors of performing on the dance floor.
Joining Fox in the bottom two was Disney star Kyle Massey.
To mark Dancing with the Stars' 200th episode, special dance awards were given out throughout Tuesday's show. DWTS alum Marie Osmond beat out the likes of Kelly Monaco's wardrobe malfunction and Kate Gosselin's icy attitude to win the "Most Dramatic" award, which she accepted during her show in Las Vegas and dedicated to her pro partner Jonathan Roberts, for not catching her when she famously fainted on live television.
DanceCenter host Kenny Mayne beat Master P, Billy Ray Cyrus and Kate Gosselin to accept the two-left-feet award for Best Worst Dancer.
Finally, Louis Van Amstel received the Golden Ponytail award as the male pro dancer with the Biggest Dance Transformation.
Other highlights of Tuesday's show included Taylor Swift performing two songs Speak Now and White Horse, followed by Rod Stewart with a suave rendition of I Get a Kick Out of You from his new album of songbook classics.