Rick Fox And Eliza Dushku Have Tiff Over Stacy Keibler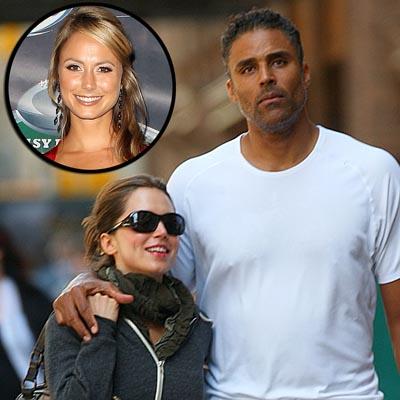 When it comes to ABC's Dancing With The Stars, the drama brewing off the hardwood is usually as captivating as the routines on it.
Only two weeks into the newest season, Rick Fox got a taste of reality television controversy when another DWTS alum inadvertently caused a moment of turmoil in his relationship with girlfriend Eliza Dushku on Wednesday.
"They were walking down the red carpet together when the photographers asked if they could take a picture of Rick with Stacey Keibler since she was on the show before," a source said of the scene at Rochelle Gores Fredston's ARCADE Boutique's The Autumn Party benefiting the Children's Institute, Inc., at The London West Hollywood Hotel.
Article continues below advertisement
"Rick was happy to do it until he noticed that Eliza was upset about it," the source added. "She stomped off the carpet with him following like a school boy."
Despite the slight squabble, moments later the couple composed themselves by the bar as Eliza freshened up her makeup. They then happily did more interviews -- even with an unassuming Keibler standing nearby -- and looked like their loved-up selves for the rest of the evening.