REPORTS: Engagement Imminent For Prince William & Kate Middleton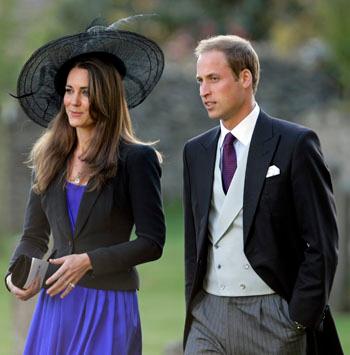 Even the London betting parlors are getting in on the action. Everyone in Britain seems to believe it is only a matter of weeks before Prince William and Kate Middleton are engaged, RadarOnline.com has learned.
The two have been dating -- with a couple of brief breaks -- for nine years, but recent developments indicate that Kate will soon be formally "introduced" as Williams' princess-to-be.
Depending on the which Royal Watcher is talking, the engagement will be announced sometime between December and February.
Article continues below advertisement
Most telling was there recent very public appearance at a wedding together.
Kate wore a custom-designed dress by designer Daniella Issa Helayel, a favorite of celebrities who also designs wedding gowns.
"Kate knows she she's going to need conservative yet attractive outfits once they are engaged and she's started collecting a very enviable wardrobe," a friend told London's The Mail on Sunday.
Other clues to the coming engagement: Kate's parents recently spent time at William's mother's estate at Balmoral and his father's retreat in Scotland.
The engagement announcement is anticipated to come shortly after the Royals spend Christmas together, with the wedding scheduled for next summer.
Related Stories:
William & Kate Edge Closer To Marriage
Prince William Raises Awareness Of The Homeless