PHOTOS: Paris Hilton Does Community Service In Heels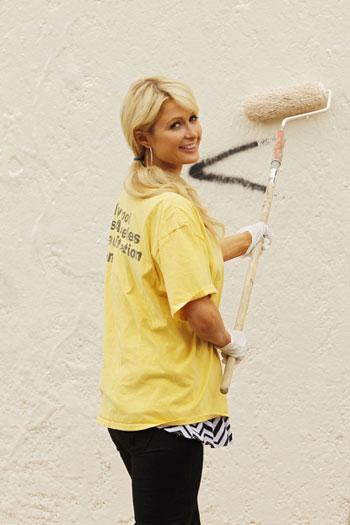 There is one thing Paris Hilton won't sacrifice: style. The heiress was spotted putting in some community service hours on Friday wearing heels!
Hilton was helping out with the Hollywood Beautification Team as part of her court-ordered community service. With her red sunglasses in hand, and after slipping a yellow t-shirt over her stylish duds, she picked up a paint roller and helped cover a wall with a fresh layer of beige.
Article continues below advertisement
According to the listed guidelines of the Hollywood Beautification Team, workers are supposed to dress and "prepare to get dirty." Though she pulled her own weight, Hilton missed a key detail in the directions: you're not supposed to wear high-heeled shoes.
The guidelines also state that participants must arrive at 7:00 am. If they are 15 minutes late, they will not be allowed to work that day.
Once signed in, participants cannot leave "to move your car, buy coffee, use the phone, etc." If any rules are broken, no credit for the day worked will be received.