PHOTOS: Gosselin Kids Reunited With Family Dog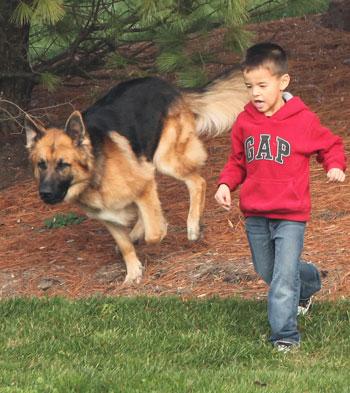 Kate Gosselin and her kids have been reunited with their family dog and RadarOnline.com has the first pictures of the happy family with their beloved pet.
The family's two German Shepherds, Shoka and Nola were sent back to their breeder last year when Kate decided the dogs were too much to handle.
Alexis and Collin, 6, have been expelled from school but were in good spirits as they ran around in the yard with Shoka, playing with their toys and enjoying the fresh air.
Article continues below advertisement
The dogs were a source of contention in the Gosselin household and many episodes of Jon and Kate Plus 8 featured the now divorced couple arguing over them.
In September 2009, Jon famously went on a verbal rampage, accusing Kate of not looking after the dogs while he was gone.
At the time, dog breeder Jeff Christopher spoke to RadarOnline.com insisting she was just trying to do the right thing.
"Kate is an orderly kind of person," he said. "She was never concerned about the dogs, she just wanted to train them, and so this time with the dogs gives me extra time to train them."