LeAnn Rimes Breaks Down In Tears, Reveals Love Low Point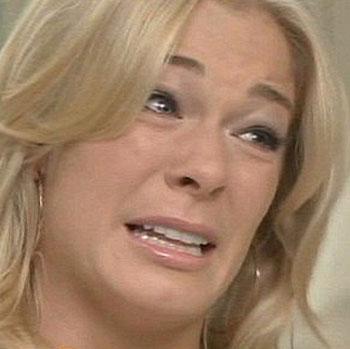 LeAnn Rimes and Eddie Cibrian, tabloid mainstays since their love affair began, opened up to ABC News in an interview in which they discuss their controversial romance, which began a year-and-a-half ago when both were married to others.
In a preview of the special, ABC's Robin Roberts asks Rimes what her low point was, to which the How Do I Live singer answers, "Which one?"
In another clip, the emotional Rimes is seen saying, "You're going to make me cry."
Article continues below advertisement
Busted! Eddie Cibrian Snapped Leaving LeAnn Rimes' Home
The handsome Cibrian comes off as more cavalier when discussing the couple's romance -- which resulted in a pair of divorces (Cibrian divorced his wife of eight years Brandi Glanville, while Rimes divorced her husband of seven years, former dancer Dean Sheremet).
"We played catch right away and I knew she was the one because she almost tore my hand off," said Cibrian, who has two young sons with his ex wife, Mason and Jake.