Katherine Jackson Tells Oprah: 'I Kind Of Felt He Was Gone'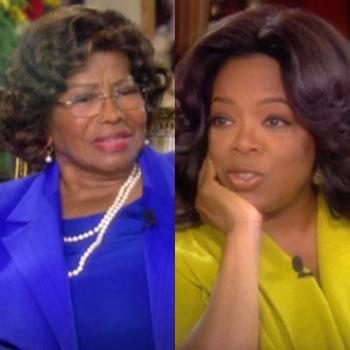 In a tearful interview on The Oprah Winfrey Show airing Monday, Michael Jackson's mother Katherine said she "kind of felt" Michael was gone, after hearing the news that her son hadbeen rushed to the hospital.
Katherine revealed that she had an agonizing wait until finding out what happened to Michael.
"They called me and said come to the hospital, Michael's in the hospital," Katherine told Oprah. "They didn't tell me he was dead. ,They made the doctor tell me. The doctor had to tell us. Doctor Murray."
Article continues below advertisement
That never-before-revealed detail is even more dramatic because Dr. Conrad Murray is facing criminal charges related to Michael's death. Dr. Murray administered propofol, a power drug rarely if ever used outside of a hospital, to help Jackson sleep.
Katherine told Oprah that when she encountered Dr. Murray at the hospital they had this exchange:
"I said, 'Well what happened? How is he how is he did he make it?'
MORE ON:
Katherine Jackson
"He said, 'No. He's gone.'"
The matriarch of the Jackson family explained in detail that everyone at the hospital was reluctant to tell her what happened to her son, leading up to Dr. Murray breaking the news.
"I prayed all the way to the hospital," she said. "He was dead then but they didn't tell me."
RELATED STORIES:
EXCLUSIVE VIDEO: Violence Inside Jackson Home