Investigators - Murder Of Hollywood Publicist A Hit Job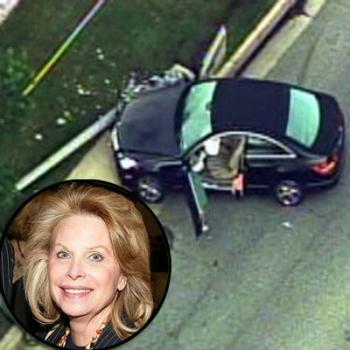 Police believe the killing of Ronni Chasen - the show biz publicist fatally shot five times Tuesday before crashing her car in Beverly Hills - was planned in advance, according to a new report.
Authorities told The Hollywood Reporter they believe shots fired at the 64-year-old PR guru came from a car that pulled alongside the passenger side of Chasen's Mercedes-Benz, likely as, or just before, she made a left turn from Sunset Boulevard onto Whittier Drive. A source told the paper that a red-light camera installed at the intersection of Sunset and Whittier did not record any footage of the shooting.
Article continues below advertisement
Meanwhile, Beverly Hills Mayor Jimmy Delshad told the local NBC television station that Chasen was "targeted". He also said, "due to the high angle of shots fired it is believed" the suspect's vehicle "was a SUV."
New leads may come as the result of surveillance footage police recovered from the nearby estate of the late comic Buddy Hackett, where his widow Sherry lives now, according to the paper.
Beverly Hills Police Sgt. Lincoln Hoshino told the paper investigators have not yet "focused on any specific motive or technique.
"We know it's not some sort of sniper shooting from across the street - ridiculous theories, we can discount," Hoshino said. "We haven't ruled anything out within reason."
Chasen, 64, had attended the premiere of the upcoming Cher film Burlesque earlier in the evening on Tuesday. She was shot five times while driving, until crashing into a light-pole at around 12:30 a.m. PT. She was then transported to Cedars-Sinai Medical Center in L.A., where she was pronounced dead.
Article continues below advertisement
Ed Winter, spokesperson for the Los Angeles County coroner's office, confirmed to RadarOnline.com Thursday that Chasen's death had been ruled as death as "homicide by gunshots".
We also spoke with Andrew J. Scott III, retired police chief of the Boca Raton, Florida Police Department, and the law enforcement veteran gave us his take on the nuances of the crime.
"Clearly, this crime does not fit the MO of Beverly Hills ,which suggests to me that this is not a random killing. If this were a random act of violence, usually it's going to be one or two shots -- definitely not five," he said. "Normally a contract killing involves multiple shot to the head.
"She was shot in the chest... and to me, clearly the individual did not want to damage her face," he said. "This could be a lead and it's interesting to me she was not shot in the head."