INTERVIEW: Dancing With The Stars Anna Trebunskaya Reveals Good Luck Charm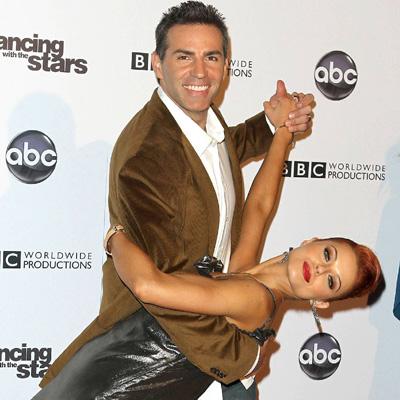 Kurt Warner and his beautiful pro-partner Anna Trebunskaya are still alive on Dancing with the Stars, and, for the first time, Anna is sharing her secret good luck charm.
"I have my mom's wedding ring on my right hand," Anna said about her good luck charm. "It's her wedding ring from my dad. It's been around longer than me. It's something happy."
She spoke to Shape.com about Kurt's pre-competition ritual. "He likes to play football on Tuesday afternoon before the show. He gets all the guys together and they play football. He likes to take his mind off the show. I don't know how much of a good luck charm that is but he like to get his mind off things for the day. He likes to enjoy good company and keep his mind off the fact that we might be going home."
Article continues below advertisement
The DWTS veteran spoke about the increased workout demands on the pair. "I remember season 2 you worked out a maximum 2 hours a day 5 days a week taking 2 days off, now even from the start before the show started it's 5 hours every day and maybe one day off. The hours and the demand definitely have increased over the season. It is the celebs getting out there more; they know it is going to be hard work.  They look good they want to impress people right from the start."
Kurt's football skills are legendary, but dancing is a new activity for the athlete and Anna explained how she eased him into the fierce challenge.
"I think in the beginning I always try to say to my celebrity you have to treat this whole process as a completely clean slate. Everything is going to feel awful and uncomfortable you have to let it happen to you. You come into this as a newbie as a beginning, you were very successful in your other career but it doesn't mean you're going to be successful as a dancer right away. You have to take it one day at a time."
Article continues below advertisement
She admitted there isn't a secret to her attitude each week.
"It depends on the day. I manage to stay calm and say to my self it is out of my control now; there is no point to stressing about it. Other times I can't help myself to stress out. It's not a set formula fortunately.  If you stay for the next week we were so excited and energized, it was like, ok, we've got another chance.  You get that feeling that you've got another chance then you always want to go back and do more and do better."
She spoke about the contestants hitting a slump. "There is a breaking point around week 6 where everybody gets really tired and we all kind of lose our steam. Once you get past that point you get your second breath and you're ready to go forward."
Anna and Kurt are an excellent match she told the magazine. "He is probably one of the best celebrities I've ever worked with. I love his wife and his kids and I love his energy. I'm having a really good time and I think that shows. We are working harder and I'm teaching him harder."
Article continues below advertisement
She thinks this season the odds are pretty even for all of the dancers. "Everybody has a chance. I think last season we were a little bit like this person is going to win no matter what. This season is a little bit more even. Even though we have some front runners they're not perfect. There are moments when they sometimes don't have their best performance and you realize my guy has a chance. It is overall more fair and more even this season."
Anna said that she didn't pre-judge any of the celebrities before she met them, especially Bristol Palin. "You never know how people are until you actually meet them. I love Bristol. She is a really cool girl, she is a normal girl, she has her priorities right. She's the most normal person we've had on the show in a while."
Dancing With the Stars returns next Monday on ABC.
RELATED STORIES:
EXCLUSIVE VIDEO BLOG: Anna Trebunskaya Dances With Gridiron Star, Kurt Warner