INSIDE STORY: Who Gets What In Charlie Sheen & Brooke Mueller's Divorce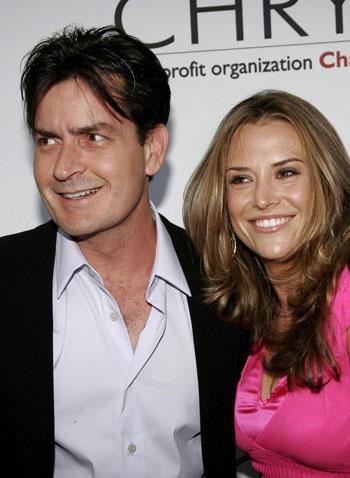 They've finally signed on the dotted line of their divorce papers, now RadarOnline.com can reveal who gets what in the Charlie Sheen-Brooke Mueller marriage meltdown.
The pair tied the knot in May 2008 and signed a prenuptial protecting the Two And A Half Men star's millions of dollars.
But despite the 60-page prenup Brooke will certainly not be walking away empty handed -- and has already managed to cash in on their short marriage.
Article continues below advertisement
Read Brooke's Divorce Filing Here
Charlie paid Brooke $500,000 on their wedding day and handed over a further $300,000 on their first and second anniversary.
Read Charlie's Divorce Filing Here
According to the legal papers, she has a stake of more than $1 million in his lavish Beverly Hills mansion and he will have to either buy her out or sell the property and give her a portion of the proceeds.
However, Brooke only has 90 days after receipt of payment to vacate the premises.
She will get a $100,000 relocation fee as well as one of Charlie's cars.
The pair have agreed not to pay spousal support but according to another agreement they signed when they decided to split earlier this year, Brooke will get $55,000 per month in child support for their two children.
In a bizarre addition Brooke has demanded that:
"Under no circumstances shall the child support paid by Charlie for Bob and Max be less than the child support paid by Charlie to Denise Richards for Sam and Lola."
Article continues below advertisement
They will share custody of their twins but Brooke will take primary physical custody, while Charlie gets visitation.
On top of all this, she received a $757,689.70 lump parting sum when they decided to separate.
The divorce comes just one week after police were called to the Manhattan Plaza hotel where Sheen was found in a drug fueled frenzy after spending the night with porn star, Capri Anderson.
He split from Brooke, his third wife, after being accused of assaulting her during a Christmas vacation in Aspen, Colorado, last year.