EXCLUSIVE INTERVIEW: Snooki's Ex Challenges Jersey Shore's Vinny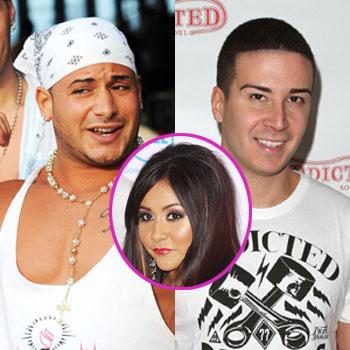 Emilio Masella, the ex of Jersey Shore's Snooki, took aim at his former lover after she was caught on camera groping and propositioning co-star Vinny Guadagnino for sex. RadarOnline.com has learned exclusively that Vinny is heading to Emilio's home state of Connecticut for an appearance and Emilio is readying himself for a final showdown to get the truth.
"I can finally find out if your hook-up with Snooki was fake or planned," Emilio tweeted Tuesday, adding that Vinny wanted to hookup with Snooki even though she was in a relationship to help boost his visibility on the reality show.
Article continues below advertisement
"Like how u called n asked to fake a hookup so people would like you more, when we were dating before season 2 hmm? #USER."
In an exclusive interview with RadarOnline.com, Emilio said he wants to know the truth once and for all and feels this is his opportunity.
"Now it's time to find out if it was fake or real," Emilio explains.
"Sadly, I really think it happened but I want him to be a man and admit he had sex with my girl while I was with her. He was supposed to be my friend."
He added: "I'm connected in here, this is my home and I will be at Sin City Night Club in Water Bay on November 26 and we'll see if he has the balls to face me!"
RELATED STORIES: