Exclusive
EXCLUSIVE INTERVIEW: Jonny Moseley - 'I'm Not Afraid Of My Skating With The Stars Sequins!'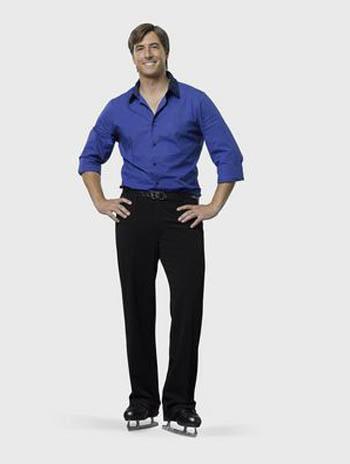 As a Gold Medal-winning Olympic skier, Jonny Moseley was a fearless dare-devil and he's taking the same approach with the sequin costumes he'll be wearing when when he takes to the ice Monday for the premiere of Skating with the Stars.
"You show up for the day and they add sequins to your costume so what are you going to do!?" he joked during an exclusive interview with RadarOnline.com.
"I'm not afraid," he added. "Johnny Weir is a judge and style is going to be important. I've got to push the limit a little bit."
Article continues below advertisement
Moseley is competing against Housewife Bethenny Frankel, Disney star Brandon Smyth, rocker Vince Neil, soap star Rebecca Budig and actress Sean Young in ABC's version of Dancing with the Stars on ice.
Taking part in the show was a "no brainer" for Moseley, he tells RadarOnline.com.
"I jumped at the opportunity actually. Obviously I've watched Dancing with the Stars and it looked like everyone has a great time and it seems to provide some interesting opportunities too. But on a personal level I'm a winter sports guy. I grew up watching figure skating. I did some free style skiing and even did some ski ballet. I'm a trick guy. I like axels. I've always wanted to know the difference between a sow cow and a loop!
Moseley is paired with pro skater partner Brooke Castile and he couldn't be happier.
"She's great. We hit it off right away," he says. "She's a competitive little figure skater, really fit and she knows her stuff. She was a national champion, world class athlete so we clicked right away. Considering I have no skating experience she's brought me a long way."
Moseley has picked two of the ladies as his strongest competitors. "Rebecca has her own skates and she apparently did some figure skating as a kid. So I'm kinda worried about her the most I guess. And she's a total sandbagger! Every time I see her she makes it seems like I'm a snake in the grass to cover how good she is!
Article continues below advertisement
"And Bethenny was doing death spirals the first time I saw her. It's so hard for the male partner to do that sitting down and it's also apparently very difficult for the woman. She was doing that like day two! I could barely stand up and she's doing this?! It took us four weeks just to work into that. I do not see myself as the favorite that's for sure."
Just in case...Jonny does have a fall back job! As RadarOnline.com was the first to learn, he'll be appearing in the upcoming web show Focus Rally: America, an interactive cross-country road rally.