Exclusive
EXCLUSIVE INTERVIEW AND PHOTOS: Snooki's Ex Emilio Teams Up With Angelina For Wild Club Appearance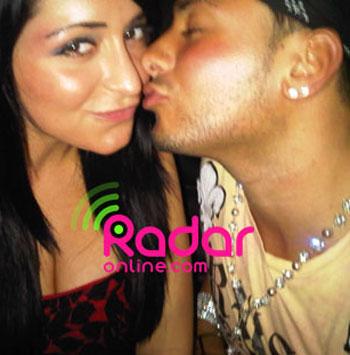 Jersey Shore's Snooki and Angelina Pivarnick have had their fair share of bickering over men: Vinny Guadagnino, Justin Rego, Jeff Miranda, and now Snooki's ex Emilio Masella? RadarOnline.com has exclusive photos of the pair smooching and has learned that Emilio drove the distance from Boston to Long Island on Saturday to meet his ex's nemesis for a wild club appearance.
"I knew it would be a blast, and Angelina's hot, so I joined the party," Emilio explained.
Article continues below advertisement
"We took a picture and I immediately sent it to Snooki because I knew it would make her furious," Emilio explained.
"I'm sure it turned her stomach."
Angelina and Emilio spent the evening fist pumping the night away at Long Island's Industry night club. It was also gay night at the club and only a week earlier Emilio had an appearance at the very same location.
EXCLUSIVE INTERVIEW: 'Angelina Is A Cheat,' Says Ex Jeff Miranda