Exclusive
EXCLUSIVE DOCUMENTS: Jessica Simpson's Fiancé's Divorce - His Ex Returned The Dog!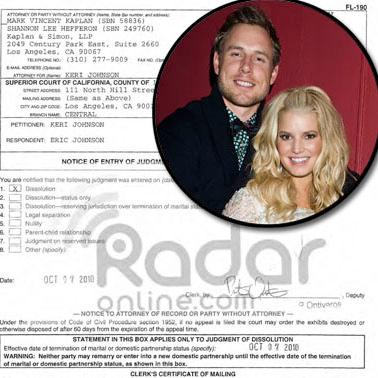 Jessica Simpson may have lost her little dog Daisy to a coyote, but her fiancé's ex-wife apparently didn't want anything to do with the pooch he gave her as a birthday present.
EXCLUSIVE DOCUMENTS: Read Eric & Keri's Divorce Judgement
Former NFL player Eric Johnson's divorce was so bitter that his ex-wife Keri even returned a dog he gave her as a birthday present, RadarOnline.com has exclusively learned.
Article continues below advertisement
Keri and Eric's divorce became final on October 7, 2010 and in the judgment filed with the court, Keri was awarded the couple's 2004 Mercedes, the 2001 Chevy Tahoe, half of a few bank accounts, and select items in their Redwood City home but one thing she didn't keep - the dog Eric gave her as a present!
According to the documents obtained by RadarOnline.com, Eric gave Keri a German Shepherd dog for her birthday and the dog was returned to the seller.
The couple received a refund for the dog and Keri kept the money!
"Any funds or other consideration received as a result of the return to the seller of the German Shepard (sic) dog purchased by respondent as a birthday present for Petitioner is awarded/confirmed to Petitioner," the documents read.
Eric got to keep a 2004 Toyota Prius, various properties and an Airedale Terrier named Bentley. Jessica must be head over heels in love with the puppy too!
Eric and Jessica got engaged with a stunning $150,000 ruby Neil Lane engagement ring and as RadarOnline.com previously reported, Jessica's parents hosted an engagement party for the couple in their home. No date has been set for their nuptials yet.
RELATED STORIES:
VIDEO: Jessica Simpson Talks About Her Surprise Engagement