Exclusive
EXCLUSIVE: Demi Lovato Distances Herself From Lindsay Lohan Two Weeks Before Checking Into Rehab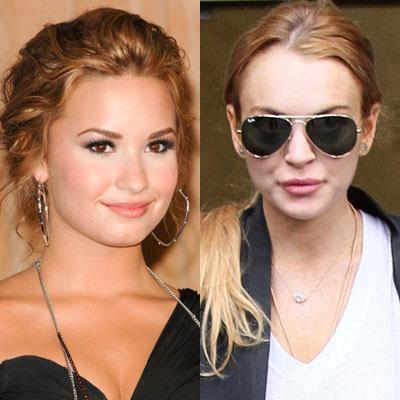 Two weeks before she entered into a treatment facility for "emotional and physical issues," Demi Lovato proudly trumped her track record, which at that point was free of the headline-grabbing scandals of that other young starlet Lindsay Lohan.
At a news conference for the 2010 American Music Awards on October 12, she gave RadarOnline.com her secret for avoiding the pitfalls Lohan has gone through.
"I think it's important to just surround yourself with good people and to make sure you have the support system in your family," she told RadarOnline.com exclusively.
Article continues below advertisement
"A lot of the times those are situations when people aren't saying no to those girls and I definitely have a mom who would slap me upside the head if I went crazy or something," she added with a laugh.
The singer then gushed about working on her third album set to be released in the spring of 2011. "I'm really excited about it," she added. "I'm doing more dance and mainstream music so I'm really exited." She is also looking forward to "getting in on the creative side and creating TV shows and movies."
On Monday, the 18-year old singer's rep said in a statement: "Demi Lovato left her tour early this weekend in order to seek medical treatment for emotional and physical issues she has dealt with for some time. Demi has decided to take personal responsibility for her actions and seek help. She is doing just that. Demi regrets not being able to finish her tour, but is looking forward to getting back to work in the near future."