Exclusive
Eva Longoria To Spend Thanksgiving With Family & Friends; Parker In Arizona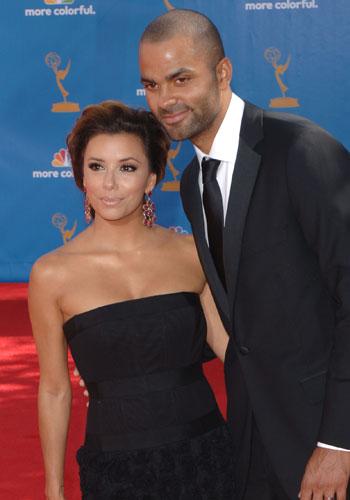 Desperate Housewives star Eva Longoria will be spending Thanksgiving with family and friends as she continues to get over her messy marriage split from basketball star Tony Parker, RadarOnline.com can reveal.
While Eva will be on the West Coast, her alleged cheater husband will be in Arizona as his team, the San Antonio Spurs, have a home game against Dallas on November 26, 2010.
Slowly but surely the actress is beginning to get over the marriage split after she sensationally filed papers in Los Angeles Superior Court citing 'irreconcilable differences' as the reason for the end of the three year union.
Article continues below advertisement
A source close to Longoria told RadarOnline.com: "Eva will be fine at Thanksgiving she will be with her family and friends – she is doing well right now all things considered."
DOCUMENTS: Read Eva's Divorce Petittion
Parker will be traveling to Minnesota for a basketball game today and, despite his problems away from the courts, he scored 24 points and had 10 assists in his team's 106-97 victory over the Orlando Magic on Monday.
The Spurs currently have the NBA's best record with their latest victory being their 11th win in a row.
RadarOnline.com recently reported that the couple is still talking but that their relationship is far from friendly following the bombshell divorce.
The NBA star is unhappy that Eva asked for spousal support in her divorce papers and is angry that she told the world he cheated and exchanged inappropriate texts with his team-mate Brent Barry's wife Erin.
MORE ON:
Celebrity Justice
Article continues below advertisement
"Some of their conversations have been cordial," a source told RadarOnline.com.
"But as things are heating up their anger toward each other exploded on the phone.
"Tony was surprised that Eva asked for spousal support in her divorce filing.
"He then filed for divorce in Texas to protect his rights. He doesn't want to pay her spousal support and doesn't thing he has that obligation."
Tony and Eva have a prenuptial agreement and RadarOnline.com learned that it was created under Texas law. Parker just signed a lucrative extension with his San Antonio Spurs, and his wealth far exceeds Longoria's.
The couple privately agreed to divorce weeks ago, but Longoria still surprised Parker with the timing of her filing.
"He didn't know she was going to do it on that day and had to hear about it from lawyers," a source told RadarOnline.com.
"Publicly they are both saying it's a friendly divorce but it has taken a very unfriendly turn."
It's understood Parker will fight Eva's attempts to get him to pay spousal support, RadarOnline.com has learned.
And their most recent conversations have not been cordial.
"She trashed him," the source said.
"And she wants everyone to know that the divorce isn't her fault so she told everyone he cheated. That has created a lot of bad feelings."
RELATED STORIES:
Video: Tony & Eva With Woman He Was Caught Texting
DOCUMENTS: Divorce Petition From the Husband Of Tony Parker's Alleged Mistress NBA Legend Furious Over Erroneous Report