Courteney Cox Puts Divorce On Hold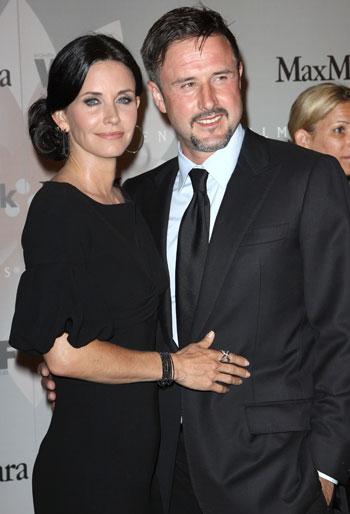 While all signs seemingly point to the end of her marriage to David Arquette, Courteney Cox has not ruled out a reconciliation. She recently opened up about their recent split, proclaiming the two are not getting divorced.
"I don't know what will happen, but this is not like we're getting divorced," Cox told Australia's TV Week.
"This is a separation and I think that takes a lot of courage... Whatever is supposed to happen will be the best thing for us."
Article continues below advertisement
Cox clearly doesn't hold a grudge against Arquette's antics, including his recent candid interviews with Howard Stern in which he discussed their sex life among other topics. Calling her husband a "kook" she added, "It's not shocking and Howard Stern he loves him and I'm a fan of Howard Stern . . . David is an entertainer and I'm sure the people who listen to the radio are entertained by his stories."
The Cougar Town actress has been getting a lot of moral support from her pal Jennifer Aniston. "It's funny, a lot of really close friends are kind of going through this right now or like Jennifer has gone through it," Cox added.
"I don't know what's going on in the planets or what, but things are being shaken up and I don't know what's going to happen, but, yeah, Jennifer has been amazing for sure."