BREAKING NEWS: Inside David Cassidy's DUI Arrest - Read The Police Report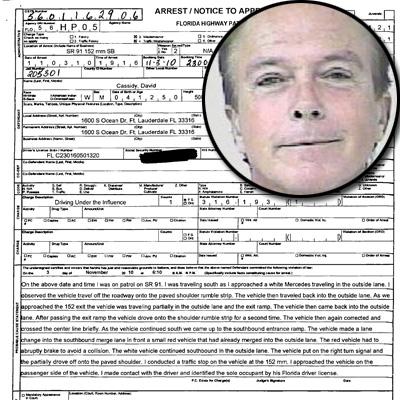 David Cassidy nearly crashed his 2008 Mercedes into another car, prior to his arrest for DUI, according to an official police report obtained by RadarOnline.com.
DOCUMENT: David Cassidy's Police Report
Authorities say a member of the Florida Highway Patrol observed Cassidy driving erractically Wednesday night on the Florida Turnpike in St. Lucie County and witnessed Cassidy nearly hitting another car, whose driver had to abruptly brake to avoid a collission.
Article continues below advertisement
The FHP trooper pulled Cassidy over and observed the former 70's heartthrob "appeared to be somewhat confused", according to the police report. As Cassidy looked for his car registration, the officer said he was "very apologetic" .. and "appeared to be very nervous, and was fumbling with the papers in the glove box."
The officer says he smelled alcohol on the defendant while they were talking. The report says that Cassidy stated "he was on prescription medications.. and that he had a glass of wine around lunch time and a Hydrocodone at approximatelt 3:30 p.m." which was several hours before he was pulled over.
After leaving his Mercedes, the trooper said Cassidy was unsteady on his feet and had to be instructed several times to stay on the shoulder of the highway.
A second tropper arrived and gave Cassidy a field sobriety test, according to the FHP report. Cassidy failed all three tests, FHP reported, and he was placed under arrest at about 8:30 PM.
After his arrest, FHP searched the vehicle and found a half-empty 700 milliliter bottle of Labrot Graham Woodford Reserve Kentucky Bourbon in the right back seat floorboard in a location still accessible to the driver, FHP reported.
After the field sobriety test, Cassidy was given a breath test and blew a .139 and .141 percent blood-alcohol content. The legal limit in Florida is .08.
He was then taken into custody and booked.
The actor - who lives in Fort Lauderdale - posted bail and was released from jail 3:30 A.M. Thursday, according to FHP.