VIDEO: Cop Injured In Yet Another Accident On Transformers 3 Set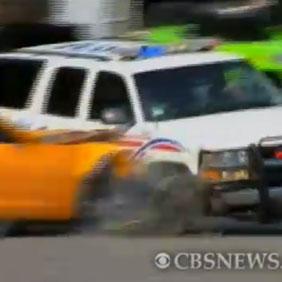 Yet another accident occurred Monday on the set of Transformers 3 when a Washington D.C. police officer en route to a call was unaware filming was going on, and collided into a yellow Chevy Camaro known in the films as "Bumblebee."
Watch the video on RadarOnline.com
The police officer involved in the collision was headed to investigate a suspicious package report, authorities said, when the accident took place at 3:30 pm ET at Third Street and Maryland Avenue NW in the nation's capital. The officer was taken via ambulance to the hospital, while the driver of the Camaro was unharmed.
Article continues below advertisement
The officer was treated at the hospital and released.
Monday's incident marks the second major accident during production of the film, as extra Gabriela Cedillo suffered brain damage and partial paralysis when she was hit in the head by a flying metal cable September 1 while filming in Hammond, Indiana.
Cedillo's family last week filed a lawsuit against Paramount Pictures, citing negligence in connection with her accident.