VIDEO: Kody Brown Marries Fourth Wife On Sister Wives Finale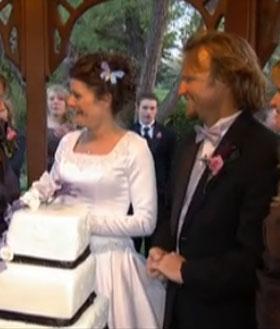 Kody Brown now has a wife for every season.
Watch the video on RadarOnline.com
Flanked by his three wives, the 41-year-old Utah native married his fiancee Robyn on Sunday's season finale of Sister Wives, a climactic end to the inaugural season of TLC's controversial new reality ratings magnet.
On the episode, viewers got a bird's eye view of the nuts-and-bolts that go into planning a polygamist wedding. The other three wives, Meri, Janelle, and Christine, helped Robyn with of her bridal duties, such as picking out her wedding dress, a cake and a venue for the big day.
Article continues below advertisement
While the ceremony wasn't televised, the reception was, as Robyn and her three children from a past marriage joined the family.
VIDEO: Here Comes The Bride On TLC's Sister Wives - See A Preview
"It was kind of like I got into the sorority," Robyn said.
"Weddings are complicated," Kody -- who is legally only married to his first wife, Meri -- said after his fourth trip down the aisle. "You'd think I'd be good at it by now, right?"