VIDEO: Johnny Depp - Dressed As Captain Jack Sparrow - Surprises Students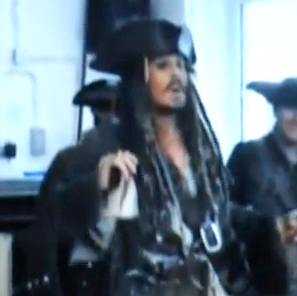 This is why we love Johnny Depp.
Watch the video on RadarOnline.com
Depp, who's in the London area filming the fourth Pirates of the Caribbean movie, made a surprise visit to an elementary school in Greenwich, England Thursday to teach the kids the proper way to stage a mutiny -- against their teachers!
The actor, 47, dressed in character as Captain Jack Sparrow, joined his fellow Pirates castmates at Meridian Primary School after he received a letter from a student -- a 9-year-old girl named Beatrice.
Article continues below advertisement
The girl had written to Depp's character (Captain Jack Sparrow) asking for help in leading a revolt against her instructors.
"Normally we're a right handful, but we're having trouble mutinying against our teachers," Beatrice wrote. "We'd love it if you could come and help."
Speaking to the delighted students, Depp read Beatrice's letter and performed as Sparrow for 15 minutes, singing pirate songs and dancing a few dead-man's jigs before cautioning Beatrice that a full-on mutiny might get her into trouble.
Beatrice later told London Tonight that Depp "gave me a hug and he said, 'Maybe we shouldn't mutiny today, 'cos there are police outside monitoring me.' "
Depp is currently filming Pirates of the Caribbean: On Stranger Tides at Greenwich's 17th-century Old Naval College.
The film hits theaters on May 20, 2011.