Taylor Swift Told Selena Gomez Her Album Secrets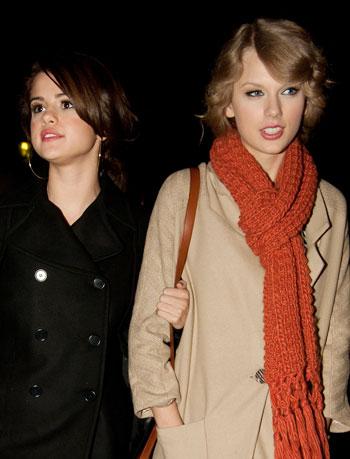 Taylor Swift's new album Speak Now has already created its fair share of controversy even before it hits stores, with the public musing over which famous men inspired which song.
In an interview that airs on Radio Disney on Monday, October 25 at 3 pm PT/6 pm ET, Swift reveals on Take Over with Ernie D that gal pal Selena Gomez has the inside scoop on the secrets behind her songs.
After giving Selena a sneak listen to her new album, Swift says her fellow singer raved about the new tunes and chose her favorite: Dear John which many think is a scathing ode to John Mayer. While the public may never know the true identity of Taylor's muse, Selena does.
Article continues below advertisement
"She knows me so well that she could tell exactly which song is about which person,' Swift told Radio Disney's Ernie D. "Her favorite was a song called Dear John... because she knows the story behind it."
Swift says she and Gomez are "like sisters in a lot of ways." One thing they have in common: the ongoing struggle to deal with love's trials and tribulations.
"We realize there is no cure for what we have, which is this need for love to make sense, and it just doesn't, so we both just go to dinner and vent about it."