Exclusive
EXCLUSIVE: Taylor Lautner and Selena Gomez Reunite At The Teen Choice Awards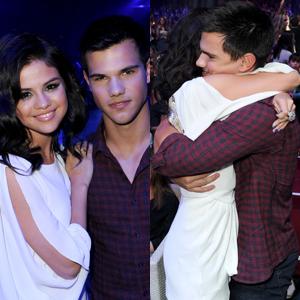 Hollywood is a little bit like high school: you can never seem to get away from your ex.
Taylor Lautner and Selena Gomez ran into each other at the Teen Choice Awards, indulging in a cozy reunion that could set the rumor mill running again about a possible romantic rekindling.
During a commercial break an hour into the show, Taylor (who was making his way back to his seat with Twilight co-star Robert Pattinson), spotted Selena and dashed to her side.
Article continues below advertisement
"They both ran to each other and gave each other a huge hug in front of everyone," an audience member told RadarOnline.com. The duo, whose reunion happened right in front of the stage, were so locked in a hug that, "they rocked from side to side as they held each other. They were beyond happy to see each other and looked thrilled and had the biggest smiles on their faces."
Unfortunately, their moment was interrupted by a waiting cameraman. "Someone tapped them on the shoulder and asked if they could pose for a photograph so they put their arms around each other and smiled."
After turning to each other once again, they tried to say some quick goodbyes before being pulled apart and rushed to their seat in time for the next segment to begin.
Proving there is no love lost in Tinseltown, another of Lautner's exes - Taylor Swift - gave both Lautner and Selena a shout out during her acceptance speech. In a videotaped message, Swift gave her condolences for not being at the show and said many of her friends with there. "Hi Selena! Hi Taylor!" Swift said cheerfully. It seems like some people actually can stay friends post-breakup!