Exclusive
PHOTOS: No More Private Jets For Tiger Woods Ex Wife; Elin Flies Solo To Los Angeles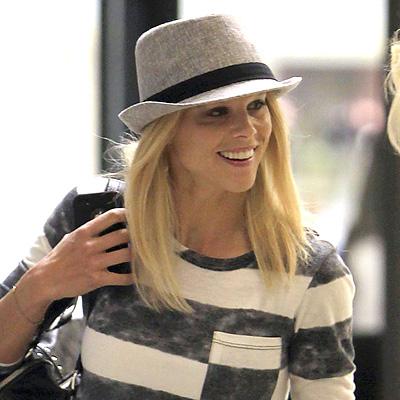 Life without Tiger Woods apparently means no more private jets.
Tiger's ex-wife Elin Nordegren flew to Los Angeles on Thursday night, and apparently her lucrative divorce settlement did not include the unlimited use of a private jet.
Elin flew out of Orlando on Virgin America, RadarOnline.com learned exclusively, leaving in the early evening and arriving at Los Angeles International airport at approximately 9 pm PT.
Article continues below advertisement
The beautiful blonde flew solo, leaving her children in Orlando, and she was greeted by a female friend in LA.
It was her first out-of-state trip since the divorce from Tiger became final. And while Tiger has access to a private jet that Elin used for her last several trips, she seemed perfectly happy flying a commercial airline and smiled broadly when picked up by her friend.
"Elin has had this trip planned for about a week," a source told RadarOnline.com. "And even though she could easily afford a private jet she never even considered it.
"She's a very rich woman but she doesn't act like it."
Elin has been busy putting her life back together since Tiger's secret life of serial cheating was exposed. And as RadarOnline.com was first to report she has been house hunting in South Florida, where Tiger built an $80 million mansion.
Life without Tiger has been peaceful, the source told RadarOnline.com.
"They are getting along fine," the source said. "They've had no issues now that the marriage is over. They have been great about sharing custody of their two kids and both of them seem a lot more relaxed now."